With over 30 years of experience teaching Spanish language, we know what you need: Quality, Experience, Flexibility and Good Price.
Please note:
Every monday from 2:00pm to 4pm there is City tour (one teacher). During this tour, we'll provide you with information about restaurants, bars, cinemas, banks, supermarket, laundries, internet-cafes, barber shops, gyms, churches and many other places and services available in town in order for you to feel comfortable to shop and walk around the city.
VALIDATION RECEIVED !
SEE OUR NEW 2016 RE-VALIDATION
2016 Revalidation of the Creditation by the Ministry of Education, athorizing us to keep working until 2019. All schools in Guatemala should have it !!!
Document 1 & Document 2
---

Video Reviews
Watch the video of ex-students talking about their experiences at the Spanish Academy Antiguena in Antigua Guatemala when learning Spanish language.
Watch the videos...
We provide the best Spanish language teaching since 1985. We have been highly recommended by Lonely Planet, Frommer's, Foot Print, The Rough Guide, Moon, Open Road www.guatemala365.com www.linguista.ch www.globostudy.ch www.boalingua.ch and a lot of satisfied students from all over the world. We got Golden Awards from Club Rotario International for excellent Spanish tuition and to supports Education Projects in poor communities here in Guatemala. We are authorized by Ministry of Education and INGUAT, teachers, homestay families , director and owner are 100% Guatemalan to ensure complete immersion here in Antigua Guatemala. Our teachers are trained in the university to teach Spanish, and are highly qualified to teach beginners and advanced students seeking a master of the Spanish language.
We pay the best salaries in the domestic market and in time our instructors as well as our taxes. We have different types of families with private bathroom and shared bathroom according the price.
In 2011 Antiguan Spanish Academy, is mentioned in newspaper articles of the United States of America, the NEW YORK TIMES, date March 8, 2011, and in the SUN newspaper SENTENEL as of January 16, 2011.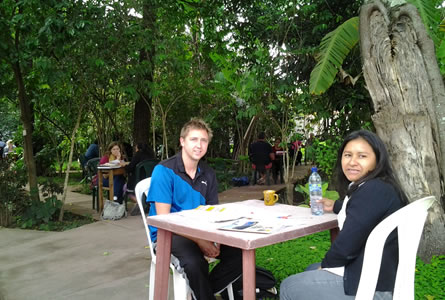 Our location and Antigua Guatemala Map
Check our location and some other important spots in Antigua Guatemala, click the icon to enlarge.
---
Need safe transport to Antigua?
We provide a safe and reliable private transportation directly to Antigua Guatemala. The rate for this private transportation is US$40 and we will drive you directly from Guatemalan City Airport to Antigua.
You will notice when you arrive at the Guatemala City Airpost that there are different prices for transportation, some as low as $15. These kind of transportation is not private or safe, they don't leave at the time you want or need, they have certain schedules, they come with other people in the van, they don't wait if the plane comes delayed, you don't come directly to your destination, you have to wait at the airport until other passengers will come and that can be long. From Antigua to Airport these cheaper transportation are not private, the driver passes from one place to other picking up more passengers, sometimes passengers are not ready or driver does not find the address of the passengers, sometimes one of the passengers will miss the flight or the driver will forget you and you have to call a taxi.

Available
We have available in our programs at the spanish school.
Volunteer programs
University credits
Study spanish with your teacher while you are traveling around guatemala
Living at mayan homestay in mayan villages around antigua and learn how to weave mayan textiles, dialects, costums, beliefs, how to cook guatemalan food
Skype Spanish Classes
Spanish Classes on weekends
Spanish Clases for Business, Lawyers, Doctors, Nourses, Misionners, Travellers and other
Evening Classes

We also offer
When coming to study with us, we also offer to you:
We work in cooperation with a travell agency, so all my students recieve special prices to travell around Guatemala. Tourist Information also
5 activities free during the week from 2 to 4pm
Coffee, Pure Water and Wifi.
Free mountain bike use
Material to study, grammar, homework and vocabulary
Salsa classes for free (with the national sub champions company)
Contact us and ask for our special packages for classes and acomodation

Reviews
What our students are saying!
Learn more about us by reading our students reviews, sharing their experiences in Antigua Guatemala and the spanish school.
Read and submit your review

Accreditation and References
Please visit our Accreditation page for references and credentials of the school
Click Here
---

---
Our school is located 50 meters from the Iglesia La Merced, one of the best locations throughout Antigua Guatemala