With over 30 years of experience teaching Spanish language
we know what you need: Quality, Experience, Flexibility and Good Price.
Every monday from 2:00pm to 4pm there is Antigua Guatemala City tour (one teacher). During this tour, we'll provide you with information about restaurants, bars, cinemas, banks, supermarket, laundries, internet-cafes, barber shops, gyms, churches and many other places and services available in town in order for you to feel comfortable to shop and walk around the city.

Video Reviews
Watch the video of ex-students talking about their experiences at the Spanish Academy Antiguena in Antigua Guatemala when learning Spanish language.
Watch the videos...
Newsletter
Join in with us to the experience of cultural and language growth. Subscribe to our monthly newsletter to receive spanish language tips, reminders and cultural notes.
Newsletter Subscription
VALIDATION RECEIVED !
SEE OUR NEW 2016 - 2019 RE-VALIDATION
2016 Revalidation of the Creditation by the Ministry of Education, athorizing us to keep working until 2019. All schools in Guatemala should have it !!!
Document 1 & Document 2
---
Our Blog
Lake Atitlan - Part 1
- Jul 18, 2018

Lago de Atitlán (name in Spanish) is one of the most visited sites in Guatemala (after Antigua Guatemala), and considered as one of the most beautiful lakes in the world.

Moors Dance Guatemala
- Jul 13, 2018

This is a very important tradition in Guatemala, and it is celebrated in many many villages in Guatemala as well as in Guatemala city, taking place specially during the 'fiestas patronales' (patron celebration). This activity captures the attention of local and foreigners alike.

Mayolica Ceramic in Antigua Guatemala - Part 2
- Jul 04, 2018

The Mayolica Ceramic is an important part Guatemalan culture today, an important heritage of the Spanish colony of centuries ago.
visit our blog
We provide the best Spanish language teaching since 1985. We have been highly recommended by Lonely Planet, Frommer's, Foot Print, The Rough Guide, Moon, Open Road www.guatemala365.com www.linguista.ch www.globostudy.ch www.boalingua.ch and a lot of satisfied students from all over the world. We got Golden Awards from Club Rotario International for excellent Spanish tuition and to supports Education Projects in poor communities here in Guatemala. We are authorized by Ministry of Education and INGUAT, teachers, homestay families , director and owner are 100% Guatemalan to ensure complete immersion here in Antigua Guatemala. Our teachers are trained in the university to teach Spanish, and are highly qualified to teach beginners and advanced students seeking a master of the Spanish language.
We pay the best salaries in the domestic market and in time our instructors as well as our taxes. We have different types of families with private bathroom and shared bathroom according the price.
In 2011 Antiguan Spanish Academy, is mentioned in newspaper articles of the United States of America, the NEW YORK TIMES, date March 8, 2011, and in the SUN newspaper SENTENEL as of January 16, 2011.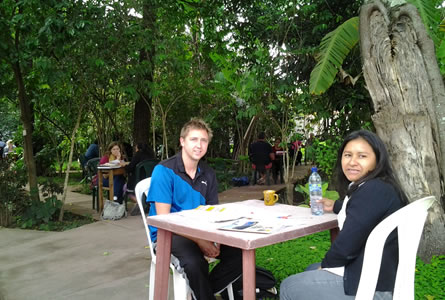 Our location and Antigua Guatemala Map
Check our location and some other important spots in Antigua Guatemala, click the icon to enlarge.
---
Need safe transport to Antigua?
We can assist you with private transportation from Guatemala airport to Antigua and Antigua to back to the airport, but this service is provided by a travel agency which has no connection with the school. There are also several ways to come to Antigua and return to airport, such as hiring a taxi, collective suttles, uber or by taking a public bus.
Please feel free to use any service you wish to come to Antigua. You are welcome to come directly to the school or we can provide the name and address to the family home-stay if you like. For trips and tour arrangements here in Antigua we recommend to search online or guidebooks to find out which are most recommended by other travelers and reserve directly with each agency.