Basket-Ball

We visited a field around the Antigua city, to play basketball outdoor with a beautiful view of the volcanoes and ruins Candelaria..
Bike Tour

Antigüeña Academy provides bicycles to visit different villages around Antigua Guatemala as: Ciudad Vieja, San Pedro Las Huertas, El Calvario, San Francisco, San Juan El Obispo. You can have an unforgettable experience around Antigua Guatemala. The bike tour takes about 2 hours and the route is 10 kilometers.
City Tour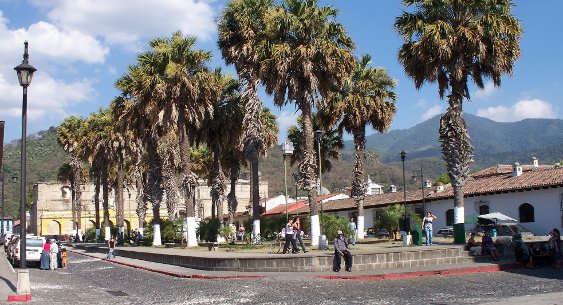 We visited various churches and historical monuments in Antigua Guatemala as the Church of La Merced, El Arco de Santa Catarina, Central Park, Palace of the Captains General, Palace Hall, the Cathedral, Union Tank, Church and ruins of San Francisco, Municipal Market and more..
Club of Conversation
Consist to meeting of several students at a similar level of Spanish, to discuss and analyze different topics of conversation: Life in Guatemala, international economy, political, national and international issues, culture, history and traditions.
Coffee farm, pre-Hispanic music and textiles, tours
A dip into the past and present of one of the most important industries of Guatemala and the best product in the world, coffee. The experience begins with an explanation in Spanish of coffee origin, the production and process thereof, after is presented a documentary that contains music and traditional dances from the Mayan culture with pre-Hispanic instruments, so the student is traveling in the living history of the past traditions and ancestral customs. Finally we visited a museum with major regional costumes of Guatemala.
Exercise with Spanish songs
This activity consists of listening songs in Spanish to develop the sense of hearing, the second step is to organize the lyrics of the song simultaneously listening to it.
Foot Ball
We visited a field near the city of Antigua Guatemala, for to play foot ball outdoors with a beautiful view of the volcanoes, Candelaria ruins or the Colony of Manchén.
Guatemalan Cooking classes
We prepare traditional Antiguan meals and desserts. The activity starts from preparation to taste the same. All materials for the preparation of food are provided by the Academy, we prepare: Pepian, Chuchitos, Buñuelos, Chiles Rellenos, Hilachas.
Jade Factory Tours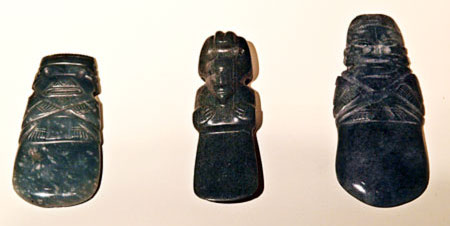 This activity is to visit the Jade factory in the city of Antigua Guatemala. It begins with the history of jade, stone extraction, and process it. Finally the presentation of different products mounted in gold and silver.
Mayan textiles Mayan Woman
Presentation by Cooperative in San Antonio Aguas Calientes: Twenty-five minutes from Antigua Guatemala we find this place, Situated in a picturesque village ethnic, where we learn the customs and living traditions of the Mayan culture, as their lifestyle, weddings, handmade ethnic costumes, the influence of the Catholic Church, traditional food, the family, savor an unforgettable meal Maya-Cakchiquel, the coffee traditional, and also the experience of how to make corn tortillas.
Tour Mayan towns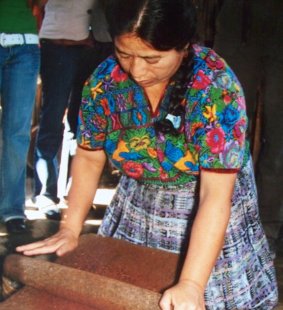 If you want to have contact with a controversy deity ethnic located 10 kilometers from Antigua. You see different pagan rites and ceremonies of the Mayan culture.
Merengue and salsa classes
Activity programmed on Monday and Tuesday, for to learn the rhythms of Latin dance. The instructors belong to a recognized institution of salsa and merengue in Antigua Guatemala, led by sub national champions.
Movies about Guatemala in Spanish or with subtitles
The Academy presents films and documentaries about the armed conflicts in Central America, economic problems of the Guatemalan families, landfill, Holy week in Antigua Guatemala and more.
Scrabble in Spanish

Activity carried out in order to practice the vocabulary learned in Spanish lessons, interact with other students in Spanish, socialize and have fun while you learn Spanish.
Swimming in Natural hot water pool among the mountains

A project located eight kilometers from Antigua Guatemala. It has direct contact with the nature and you can enjoy the thermal waters of the region.
Tour in Antigua Exotic:
Three kilometers from the Antigüeña Academy is located a refuge of rescued animals from predation, illegal hunting and of which many are endangered. If you want you can have direct contact with some harmless species. Under the supervision of experts and instructors.
Tour in Museums:

Antigua Guatemala is rich in culture, art and history, that is why our tour includes: museum of textiles, Saint Hermano Pedro, Santo Domingo, Hill Santo-Domingo, art museum, museum of rare books, museum of paint a pictures, museum of weapons.
Tour into churches and ruins:

The city of Antigua Guatemala has the largest number of churches, convents, monasteries and ruins throughout Guatemala. We visit: Church of the "Merced" and its convent, St. Joseph's Church Cathedral, Church and ruins of San Francisco, Church of El Calvario, church and convent of San Juan el Obispo and Church and Park from Ciudad Vieja. (located on the second capital of the kingdom of Goatemala, 1527).
Walking tour in cross hill: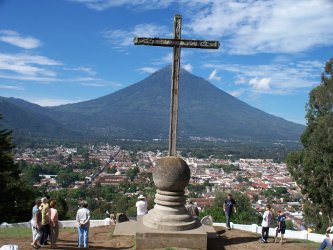 (nice view of Antigua City from the top): One kilometer from the Antigüeña Spanish Academy is the hill of the cross, with over 250 stands, direct contact with the local flora, we arrive at one of the four cardinal points of Valley Panchoy where we can enjoy the beautiful colonial line of La Antigua Guatemala as well as the most beautiful view of the city.
Guatemalan Festivals:

Guatemala is rich in celebrations and festivals such as "Day of the Dead," also known as "All Saints Day", dedicated to honor, remember and live with the deceased is a colorful and joyful festival. The activity starts with cleaning and decorating the tombs and ends with the flight of thousands of kites in the sky planned and constructed with plenty of time. You'll also enjoy traditional meals and desserts this season.
Special discounts
on may be available when you subscribing for your spanish classes; each student will receive a discount card, you can use while in school. (available for special seasons only, contact us to find out more.)
The school provides free Internet
we have two computers may be used in 8:00 a.m. to 4:00 p.m. Monday through Friday, and wi-fi service.
Library and Books
service offers the use of a library where you can consult books and studying, you can also donate books to read, exercise, magazines, to keep an updated library.
Free Use of bikes, Monday to Friday:

The school has bicycles, so students can use. (Monday to Friday, 8:15 am - 3:45 pm)